I don't see too many using Ginger's Garden and that's a shame.
Irena's soaps are actually pretty awesome. Her soap base is very forgiving and can take quite a bit of water but I'd suggest keeping her lather at or near that thick cream / thin yogurt consistency as while her lather can still "look good" with too much water, it'll not give you as good a glide as you'd like.

Enigma.
This is one of my favorite scents of the all soaps I have.
The scent profile for it are :
Pine, Cedar, Amber, Sandalwood, Patchouli and Vanilla with skin safe scented notes of Marshmallow, Musk, Brown Sugar and Coconut

Its almost gourmand but not quite as the Cedar, Amber, Sandalwood, Pine and Musk brings it back towards a more cologne type scent. I think I joked before that when Irena said that its a scent that she envisions as a woman what she would like a man to wear, that man is Aragon / Viggo Mortensen and the scent imagery is as such :

That scene where Aragon moves aside the banner to see Arwen, he knows she's there and knows what he wants, Arwen on her part can't help but want to leap into his arms.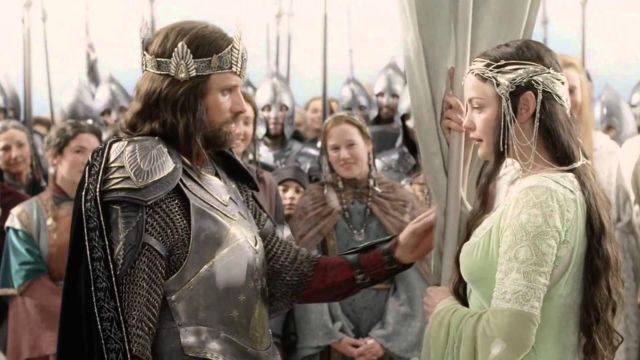 And yes, with the opening of patchouli, heartnotes of coconut, vanilla, cedar, and amber and a good sandalwood and musk base, with the other notes as chasers this is an awesome scent. Very manly, very yummy.

My only problem is that I still haven't figured a good to response to when being ask what it is that I am wearing.
Brush : Oumo SHD Silvertip badger
Soap : Ginger's Garden's Enigma
Post Shave : Ginger's Garden's Enigma Aftershave and Balm
Razor : PAA's Copper DOC w/Rockwell (7!)
Others : Ginger's Garden's Enigma Solid Perfume